Below are results for core services as identified by the unit.  Each chart shows mean scores for each of seven questions.  The seven questions include an overall question and performance in specific customer service areas.  Each question was rated on a scale from extremely unsatisfied to extremely satisfied.
Services
Graduate School Academics: Academic experience in your graduate program
Graduate School Program Development: Graduate programming development to meet student needs
Graduate School Support Services: Development and funding opportunites, student experience on campus
UW Bothell Custodial Services: Provides daily custodial services and regular cleaning
UW Bothell Digital Communications: Support and consultation to create a consistent look and feel across UW Bothell website through user-friendly navigation and interactive, up-to-date content
UW Bothell Financial Aid: Assistance programs to  bridge the gap between UW costs and the financial resources of students and their families. Counsels students on available aid programs, maintaining eligibility, and payment options
UW Bothell Printing and Copier Services: Printing and copier services for faculty and staff, including leasing, setting up user codes, troubleshooting, and campus billing. This service is shared between IT and Fiscal Audit Services
UW Bothell Registration: Administrative resources; e.g., processing requests for registration, classroom assignments, transcripts, diplomas, and enrollment certification
UW Bothell Safety Services: Day-to-day campus safety and security services and education to promote a safe and secure living, learning and working environment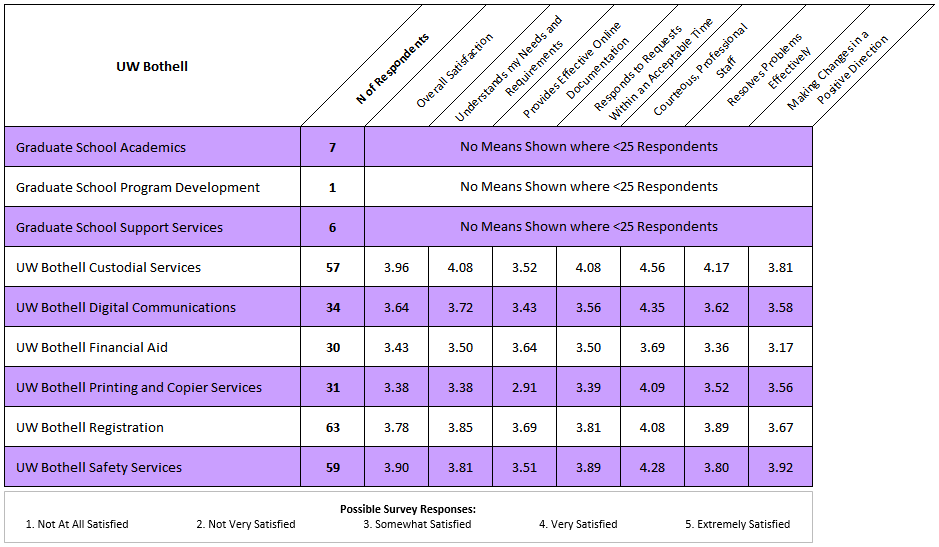 Acting on Results
We heard you and are responding to your feedback!
The Provost has asked each unit to work on a plan for acting on their results. Action plans will be posted here in the fall.