Below are results for core services as identified by the unit.  Each chart shows mean scores for each of seven questions.  The seven questions include an overall question and performance in specific customer service areas.  Each question was rated on a scale from extremely unsatisfied to extremely satisfied.
Services
Academic & Housing Accommodations for Students with Disabilities: Mental health counseling, referral, and crisis intervention services 
Counseling/Intervention Services for Students at the Counseling Center: H1-B; J-1; TN; E-3, Permanent Residency
HUB Games: Entertainment and recreational activities in the form of bowling, table tennis, pool, video games, arcade, and board gaming, along with refreshments
Husky Card: Photo identification cards for members of the University community and management of Husky Card accounts
Intramural Sports: Structured leagues, tournaments, and special events offered in a variety of sports activities each quarter
UW Dining Retail Services: Retail dining venues selling grab-and-go food items and beverages.  (Does not include the following venues:  UW Medical Center, Henry Art Gallery, The University of Washington Club, The Buzz.)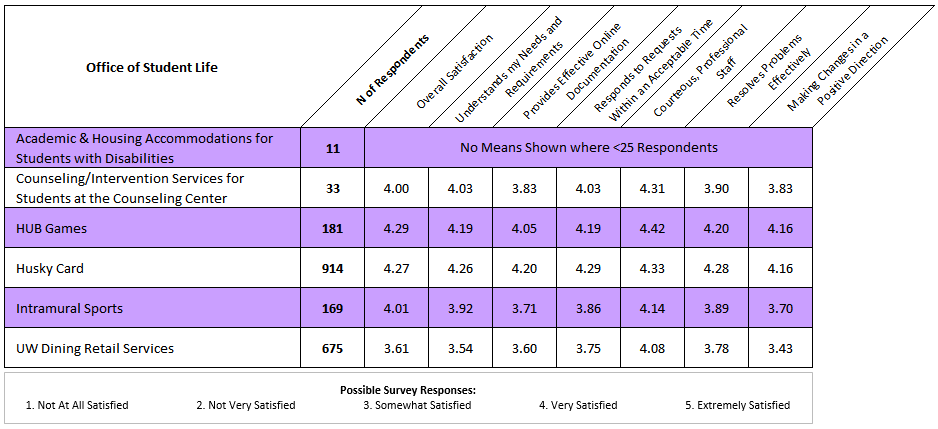 Acting on Results
We heard you and are responding to your feedback!
The Provost has asked each unit to work on a plan for acting on their results. Action plans will be posted here in the fall.