Services
Below are results for core services as identified by the unit.  Each chart shows mean scores for each of seven questions.  The seven questions include an overall question and performance in specific customer service areas.  Each question was rated on a scale from extremely unsatisfied to extremely satisfied.
Academic & Housing Accommodations for Students with Disabilities: Mental health counseling, referral, and crisis intervention services 
Counseling/Intervention Services for Students at the Counseling Center: H1-B; J-1; TN; E-3, Permanent Residency
HUB Games: Entertainment and recreational activities in the form of bowling, table tennis, pool, video games, arcade, and board gaming, along with refreshments
Husky Card: Photo identification cards for members of the University community and management of Husky Card accounts
Intramural Sports: Structured leagues, tournaments, and special events offered in a variety of sports activities each quarter
UW Dining Retail Services: Retail dining venues selling grab-and-go food items and beverages.  (Does not include the following venues:  UW Medical Center, Henry Art Gallery, The University of Washington Club, The Buzz.)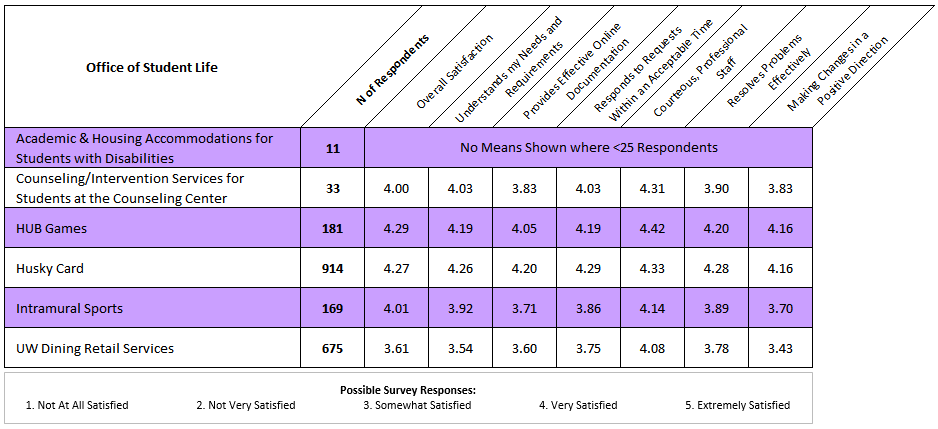 Acting on Results
Student Life Heard You!
In response to survey results, here are a few of the improvements Student Life is pursuing:
Academic and Housing Accommodations for Students with Disabilities will gather feedback from students and faculty via targeted surveys, faculty focus groups, and assessment of service usages in online case management system. 
Counseling/Intervention Services for Students at the Counseling Center will conduct focus groups with students from the few schools/colleges that rated the unit lower to obtain qualitative data about client experience with the Counseling Center.
HUB Games will offer free gaming for an hour each first Monday of the month; change Games Area protocols to reflect student managers leading with more direct customer contact; and work with UW Athletics to decorate the Pool Hall to make the space more UW-focused and attractive to the students, faculty, staff, and alumni. 
Husky Card will incorporate specific information about services and office locations as part of Housing & Food Services' web redesign.
UW Recreation has actively made improvements to its website for better content and user navigation this year.  In summer 2017 a switch was made to a new scheduling platform, and during fall 2017 UW Recreation will be switching to a new notification/communication platform, so they anticipate a better overall user experience in the future.
UW Dining and Retail Services will improve communication by partnering with Housing & Food Services' Communications & Marketing team, establish a workgroup to improve customer service and culture and provide more dining options. They will also gather additional feedback via targeted surveys at Point-of-Sale and secret shopper responses, and will develop a process for managers to audit their own operations.  
These changes should benefit customers and campus partners by:  
Resolving problems effectively 
Making changes in a direction that better meets campus needs 
Student Life Service Ambassador: Kathi Cordova