Below are results for core services as identified by the unit.  Each chart shows mean scores for each of seven questions.  The seven questions include an overall question and performance in specific customer service areas.  Each question was rated on a scale from extremely unsatisfied to extremely satisfied.
Services
Academic Affairs and Planning: Planning and approving new graduate degree programs; administering interdisciplinary academic programs; operating the academic program review process
CORE Programs/Professional Development: Professional development opportunities for graduate students
Fellowships and Awards: Manages funding opportunities that support graduate students
Graduate Enrollment Management Services (GEMS): GEMS provides academic program progress/completion services, operates MyGradProgram, and interprets policy and procedures regarding graduate education
Graduate Opportunities and Minority Achievement Program (GO-MAP): Provides funding and networking opportunities, professional development, and other support to underrepresented graduate students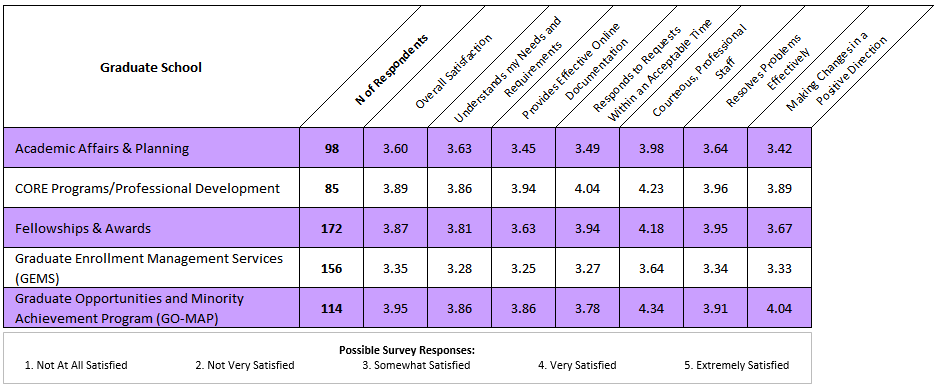 Acting on Results
We heard you and are responding to your feedback!
The Provost has asked each unit to work on a plan for acting on their results. Action plans will be posted here in the fall.