Below are results for core services as identified by the unit.  Each chart shows mean scores for each of seven questions.  The seven questions include an overall question and performance in specific customer service areas.  Each question was rated on a scale from extremely unsatisfied to extremely satisfied.
Services
Employee Relations, Academic: Advise on promotion, tenure, workplace violence/harassment, disability accommodations, general inquiries; Faculty Code 25.71 and other faculty code and policy advice
Equal Opportunity and Affirmative Action: Affirmative Action Plan, recruitment waivers, general inquiries, adhering to reporting requirement
Policy and Procedure Guidance: Leaves, appointments, separations, salary adjustments, voting, hiring plans, advertisements
Training and Consultation: Administrator trainings and informational updates, Assistant Professor Workshops, Retiree Trainings, retirement information sessions
Visa Processing and Guidance: H1-B; J-1; TN; E-3, Permanent Residency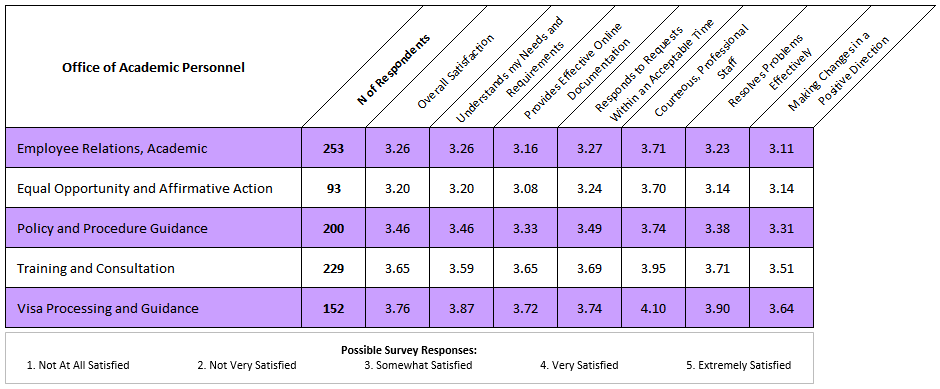 Acting on Results
We heard you and are responding to your feedback!
The Provost has asked each unit to work on a plan for acting on their results. Action plans will be posted here in the fall.