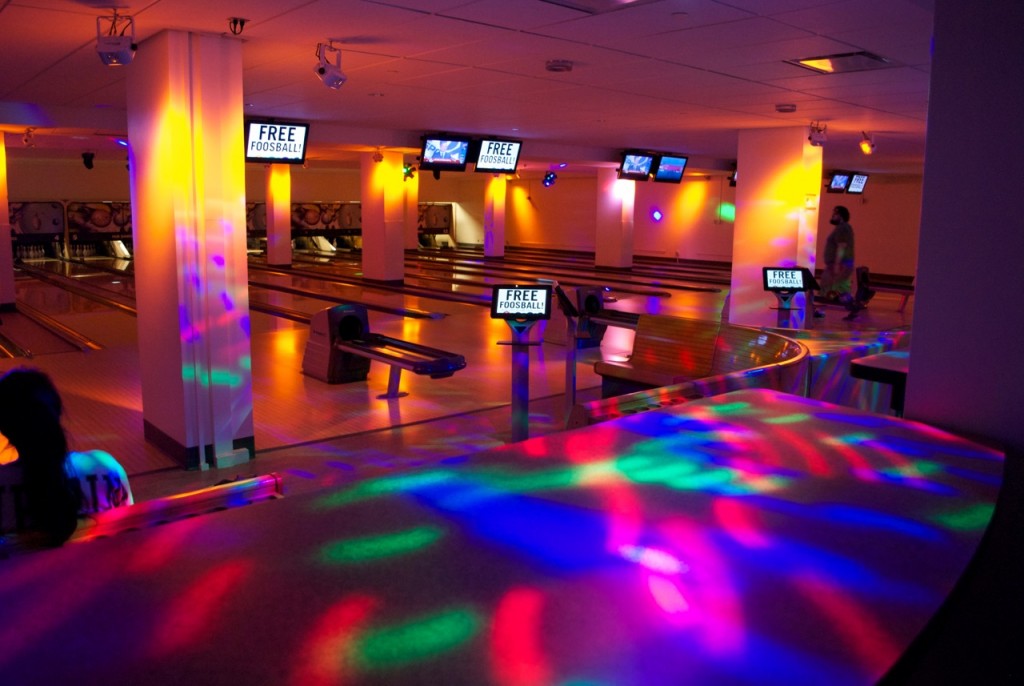 HUB Games offers Cosmic Bowling every Monday-Thursday from 6:30-10:30pm during academic quarters.
HUB Games improves already strong services with renewed focus on students
HUB Games has always been a well-used and well-loved feature of the UW campus, offering something for everyone — from bowling, pool and ping-pong to classic arcade games. But in response to feedback from a 2017 TAP survey, HUB Games has updated its focus on serving the UW community, in part by becoming almost fully student-led — while still offering a fun and affordable games area to the general public.
The TAP survey feedback showed that, while HUB Games was very highly-rated across the board, it was perceived as catering as much to non-UW visitors as to students. The feedback served as a "catalyst," says HUB Director Justin Camputaro, "to refocus on our campus-serving mission, while still generating revenues as a self-sustaining service." For Camputaro and HUB Games Manager Jason Hansen, that mission includes making students the focus of all levels of service, both in and behind the scenes.
One significant change has been to train students in management — resulting in HUB Games now being almost entirely student-run. The new student manager position has meant a "complete shift," says Hansen, with students now at the front lines of nearly all customer interactions. These students get valuable training in problem-solving and management skills, while HUB Games maintains its excellent customer service, "and customers know they are working with a student employee-driven business," he says.
Other noteworthy improvements? Ensuring that games are as accessible as possible to the UW community. New UW-tailored discounts mean that at HUB Games, "bowling, pool and gaming is cheaper than anywhere in Seattle if you're a UW student, faculty or staff," says Camputaro. Students can bowl for as little as three dollars given new modified student pricing. Other discounts for students, faculty and staff include Free First Mondays (offering one free hour of gaming on the first Monday of each month), Cue It Up Wednesdays (for discounted pool) and Game On! Thursdays (for discounted console gaming).
Reaching new audiences
The TAP survey gave us incredible data and reached demographics that we would not be able to reach otherwise.
- Jason Hansen, HUB Games manager
In addition, "we added a number of new and exciting activities," says Hansen, "to give students and departments more opportunities to keep their events fresh." These include giant-sized games, putt-putt pool, a new selfie station and more game tournaments.
The TAP survey "gave us incredible data and reached demographics that we would not be able to reach otherwise," says Hansen. He brought in his entire student team to help examine the data and decide where to focus efforts, empowering students as part of the improvement process from start to finish.
Additional improvements have included revamping the pool hall and bowling alley to make those spaces even more comfortable hangouts and, with activities like retro-style "cosmic bowling," upping the nostalgia factor. "Creating experiences and making memories is a big element of our mission," says Camputaro — "for all, but especially for students."