What is TAP?
The key goal of TAP is simple — to enhance the culture of service in UW's central administration units. 
In the past 6 or 7 years, the University has made a lot of progress in increasing administrative effectiveness; however, we need to focus and continue our improvement efforts to bring the University's often siloed administrative units together to work as one university administration, with a common vision, a culture of service, and a commitment to continuous improvement.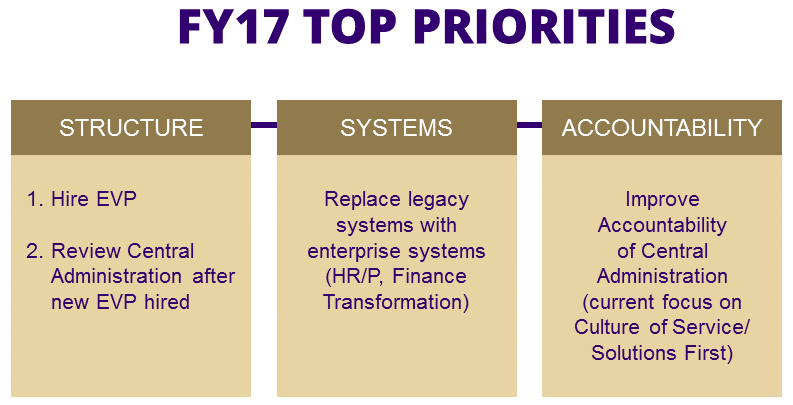 Who is involved?
The Transforming Administration Program (TAP) encompasses all central administrative units (those led by Vice Presidents and Vice Provosts) and will focus on excellence and quality of services, quick delivery and easy navigation. This work builds on existing efforts around Strategic Consulting, LEAN, and the work of change management and organizational development professionals throughout the units.
2017 Tri-Campus Survey
The 2017 TAP Customer Service Satisfaction Survey included 28 central administration units, across areas led by a vice president, vice provost, executive director, or chancellor. Its aim was to enhance the culture of service in UW's central administration units, and to learn and understand customer needs and expectations. The survey was open to faculty, staff and a selection of students from January 30 through February 10, 2017. Learn more at the 2017 TAP Survey home page.
2016 Project Highlights
Interested in learning more about TAP Projects begun and completed during FY2016? View Completed Projects to learn more about work done in and with the Office of Research, Administrator's Council, Activity Based Budgeting and more. See also the TAP team's July presentation and update to the Board of Regents.
2015 Campus Survey
The goal of the 2015 TAP internal survey was to gather input from campus on what's going well in Central Administration and what can be done better, as well as share ideas for process improvements, best practices or lessons learned that would benefit colleagues in other units. The survey included five open-ended questions and heavily relied on qualitative data. The survey was sent to the President's Cabinet, Vice Presidents, Vice Provosts and cascaded to their staff.  The survey was open from June 10 through August 7, 2015. 
A high level summary of the survey results can be reviewed here.